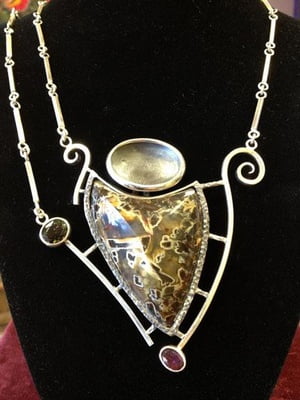 Interested in having a one of a kind piece made for you? Levent's specialty is creating custom pieces integrating your vision along with his artistic expertise. Whether it is a fulfilling your jewelry collection, bringing new life to an old heirloom, or a piece to remember a loved one by, you are sure to be pleased with the outcome.
Is your jewelry collection incomplete? Looking to bring new life to an old heirloom? Want to surprise someone with a custom-made ring or a one-of-a-kind necklace?
If you answered "yes" to any of those questions, we have some good news: your next custom piece of jewelry is much closer — and more attainable — than you might think!
Silver of Oz is eager to guide customers in their quest to create the jewelry of their dreams. Whether you're looking to wear around a new pair of earrings, want to surprise that special someone with a one-of-a-kind necklace, or are eager to make an old jewel look like new, we're here to help you make your dream become reality.
But this isn't about us — it's about you. From start to finish, you'll be a part of the jewelry making process. We'll sit down with you, discuss what you have in mind, and work with you to create a custom design. Soon enough, you'll have your very own piece of jewelry.
The best part? You'll have helped to make it become reality!
Call us at 402-558-1307 to learn more about creating a custom piece of jewelry!
To see more of our designs, visit our online shop!